kritter couture
a fashion-forward store for your pets and more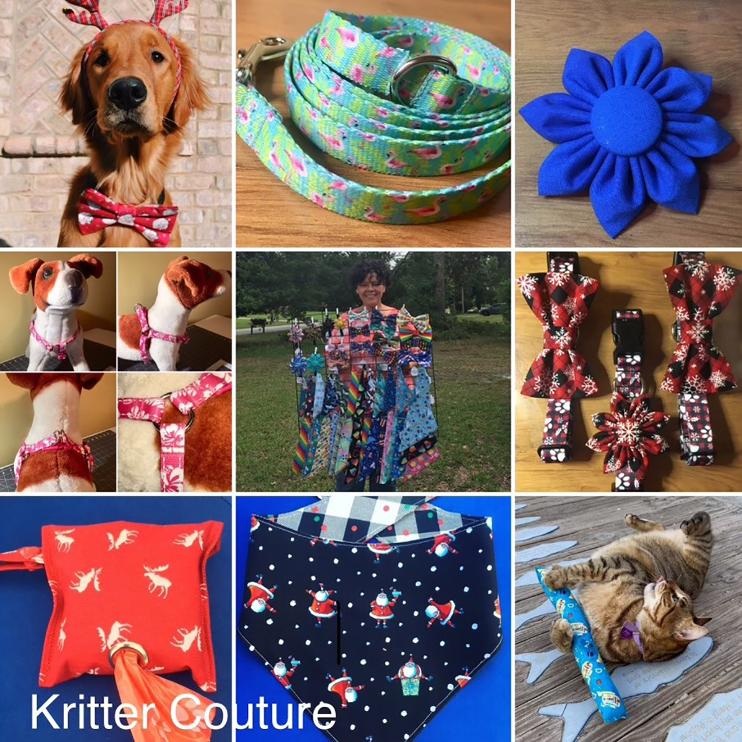 Meet Jennifer Demary, the creator and owner of Kritter Couture & More. Originally from Pittsfield, Mass., Jennifer moved to Wilmington to receive a B.A. in Accounting from UNCW. She fell in love with the Port City and never left.
At 23-years-old, Jennifer was offered a position in hospitality management, and by the age of 28, she and her best friend, Jen became co-owners of Kritter Care - In Your Home Pet Sitting.

After 14 years of building their business on the reputation as "The People Your Pets Depend On," Jennifer branched out on her own to create Kritter Couture & More. With a mission to help all furry Kritters become a little more fashion-forward, she created your pet's go-to fashion store, featuring current trends that are all the rage.

Whether it's on the cat walk or dog walk, Jennifer's Kritter Couture is totally en vogue. From bandannas, flower bows, and bow ties to collars, leashes, harnesses, and fashionable poo bags, no fur baby will question their personal style again.
One of Jennifer's initial inspirations to found Kritter Couture & More was to assist her late dog, Gracie. Gracie developed a back disease the last ten months of her life and required assistance getting around. Jennifer created a medical sling for her, which she continues to make for dogs in need today.
"Doctors told me she'd never walk again, but with her determination and the help of her sling, Gracie was mobile up until the day she crossed the Rainbow Bridge. She is still such a big inspiration for me today." ~Jennifer Demary, Kritter Couture​
follow on facebook and twitter: @krittercouturenc