cape fear's going green magazine
making sustainability mainstream in our community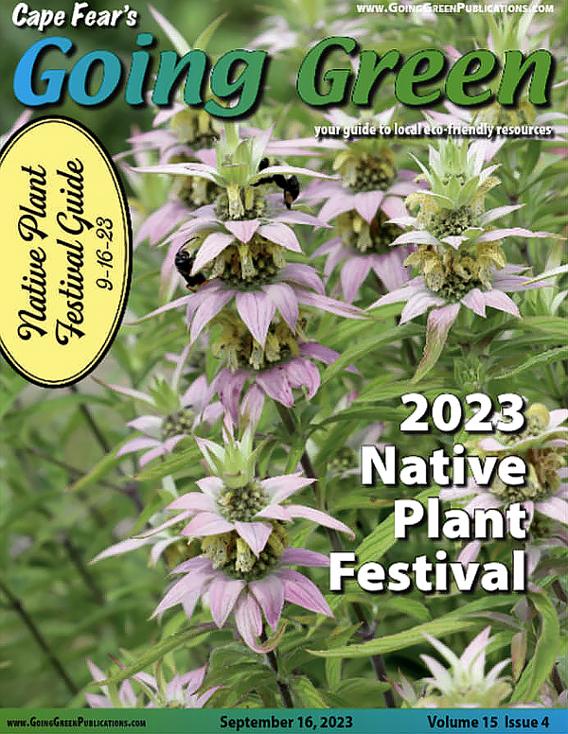 Cape Fear's Going Green is your premiere guide to eco-friendly resources and lifestyles in the Lower Cape Fear region. This free magazine covers topics designed to help you make choices that save you money, contribute to healthier living, and assist you in being kind to our planet.
No matter what your interest in sustainability—stormwater management, green building, or alternate energy; using native plants, protecting our wetlands, or recycling—Going Green has information you can use.
Our mission is to help make sustainability mainstream in our community.
Cape Fear's Going Green magazine is a vehicle for area residents to learn about "green" projects being implemented successfully by people in their own community. The publication and its website offer timely information on events, promote dialogue among friends and neighbors, and serve as a resource to anyone who has an interest in "going green."
We believe the lower Cape Fear area could, if it makes the right choices, become a sustainable role model for other coastal communities. Our role is to share information that could help guide these choices.
Valerie Robertson started Cape Fear's Going Green to fill a two-pronged information void. First, in 2006 she noticed the Wilmington area had many individuals and small groups that were passionate about some aspect of promoting a green lifestyle, but whose efforts were known by only a very few people. Second, she heard more and more people asking for—and not finding—information on local eco-friendly products and services. Eager to behave in a more environmentally-sensitive way, they were often stymied by a lack of information with a local focus. Valerie started the magazine to serve as a central information hub for local environmental information.