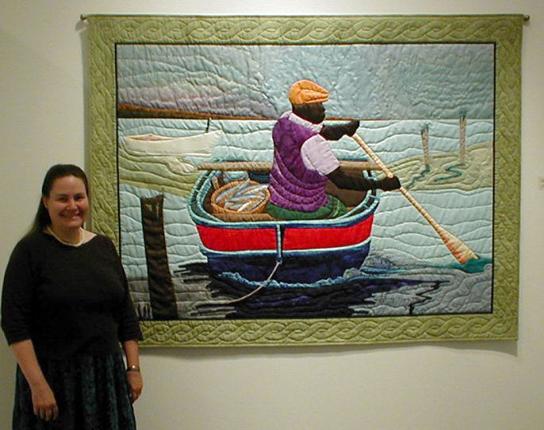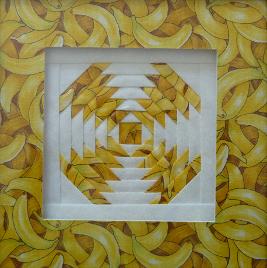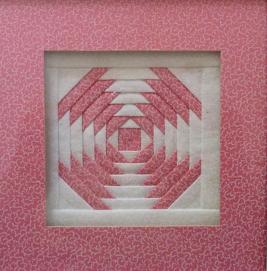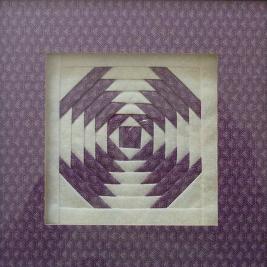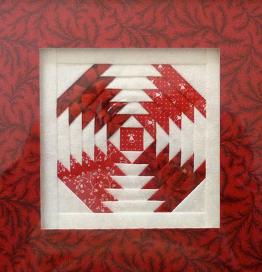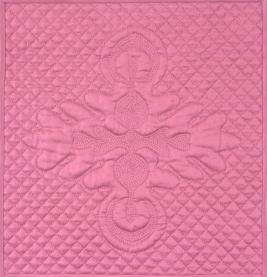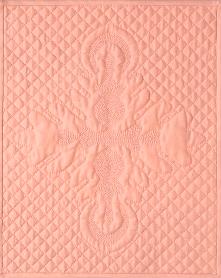 Fourth-generation quilter Valerie L. Robertson is a native midwesterner with a compelling need to make things with her hands. Versed in many different textile forms, she started quilting in earnest in 1985. She specializes in one-of-a-kind commissions of large-scale contemporary designs to adorn the wall, stitched and quilted by hand. Valerie's love of fiber art started with years of sleeping under stacks of her grandmother's quilts as a child. As a youngster she learned to knit, embroider, and sew, and for many years made her own clothes and costumed school and community theatrical productions. In 2005 her "Tradition Today" exhibit at WHQR filled the space to the ceiling with quilts made by four generations of women in her own family.
Although she enjoys working alone for hours on end, she also enjoys involving others in the artistic process. Many of her pieces are created in collaboration with her mother, Adeline Robertson, Ph.D., and the two of them enjoy any excuse to travel to new quilt shops. Two of the quilts offered for sale at this year's art-toberfest will be collaborations with Burgaw artist Ivey Hayes, who asked the Robertsons to interpret his paintings in fiber.
Valerie looks forward to talking with you about her work at this year's art-toberfest. Her porch will feature everything from large applique pieces to precision miniatures, and perhaps even a couple of lap quilts and bed quilts. There will be pieces in all price ranges, starting at $60.
Valerie's precision wall quilts have won numerous awards. She has shown at the American Craft Council show in Baltimore and the Philadelphia Furniture and Furnishings Show. In 2002 juror Wendy Rosen selected "Coming Home with the Catch" for inclusion in the American Craft Council Spotlight Exhibition 2002. A long-time advocate of promoting enjoyment of and participation in the arts, Valerie served for six years as Board member of North Carolina Quilt Symposium Board, Inc., participating in the organization's mandate to ensure a quilt symposium is held each year somewhere in the state of North Carolina. From 2002-2003 she was editor in chief of Cape Fear Arts Alive, a local arts magazine. Since 2007 she has published Cape Fear's Going Green, the environmental quarterly serving the lower Cape Fear area. Valerie's quilt studio is in the historic district of Wilmington, North Carolina.